Ring in the season with these festive picks to get you in the holiday spirit
'Tis the season to be jolly and with the end of exams, students can finally take a breather from the hustle and bustle that comes with the academic year. Although COVID-19 has made the typical holiday season feel like a distant memory, that doesn't mean you still can't kick back by the fireplace, enjoy a cup of eggnog and stream your favourite Disney show or movie to get you in the holiday spirit. No need to sell your voice to the sea witch to make this happen! 
Yet another disclaimer: Yes I have written another Disney+ article, but I am still not sponsored to write this. Again, Disney if you are listening, any Christmas ornaments you would like to send me, I'd appreciate it! As always, heigh-ho, heigh-ho, it's off to the list we go!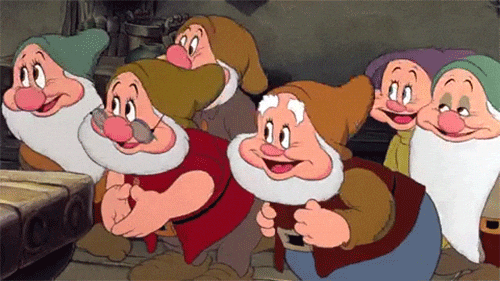 The Wonderful World of Disney: Magical Holiday Celebration, 2020
A fun way to kick off the holiday season, this special brings you into the heart of the Magic Kingdom's Main Street USA. With a number of special holiday performances around the Disney parks, this celebration is sure to put a smile on your face. If seeing Idina Menzel and Kristen Bell sing a song from Olaf's Frozen Adventure or watching Shaggy sing "Jamaican Drummer Boy" in front of Cinderella's castle wasn't enough for you, you'll be delighted to watch castles around the world get lit up for the festive season.
The Disney Holiday Singalong, 2020
Do you miss caroling? Look no further than this festive special, hosted by Ryan Reynolds. Join your favourite celebrities as they sing classic holiday songs, with a few Disney ones thrown in the mix. Who was my personal favourite? Katy Perry singing her newest single, "Cozy Little Christmas", dressed as a Christmas tree!
The Santa Clause 2, 2002
"Seeing isn't believing; believing is seeing."
I mentioned this movie in another piece I have written and I am so glad that it is easily accessible on this platform. The Santa Clause 2 is a movie that I look forward to watching every holiday season. Santa Claus is losing his powers because of the Mrs. Clause, a stipulation that states if he isn't married by Christmas Day, he can't be Santa anymore.
If that wasn't enough, Santa finds out that his son is on the naughty list and must depart the North Pole to set him straight. Not only does the film have a great soundtrack, but it also stands for so much. The main message is you don't need magic in order to make a difference in people's lives — a message that is especially important to me during the holidays.
Disney's Fairy Tale Weddings: Holiday Magic, 2017
[media-credit name="C/O Disney Parks" align="none" width="600"]
[/media-credit]
In my "ten things you need to watch on Disney+ right now" article, I spoke about Disney's Fairy Tale Weddings, a show that documents couples getting married within the Disney parks. I raved about how romantic the show was, paired with the magic of Disney, made for a show that was truly worthy of binge watching. Take that and couple it (pun intended) with the magic of the holiday season and you have a show that is bound to make you tear up as you hear the words "I do". My recommendation is to stock up on some tissues before you watch this!
Olaf's Frozen Adventure, 2017
"And when we're together, it's my favourite time of year."
Ring in the season with your favourite friends from Disney's Frozen. While this isn't the longest animated short, it is sure to put you in the spirit of the holiday season as Olaf tries to find a new holiday tradition for Anna and Elsa.
A cute little side story: the first song in this short is called "Ring in the Season" and everytime I go into the Disney Store during November and December, the song comes on either as I'm entering or leaving the store. It always puts me in the holiday spirit as I'm buying the last of my gifts. This Frozen tale isn't just a cute little distraction from the hustle and bustle of the holidays, but also has a heartwarming message. The festive season isn't about the yearly traditions or the fruit cake, rather it's about the people you spend the time with. 
Iron Man 3, 2013
"And so, as Christmas morning began, my journey has reached its end."
Now I know what you're thinking, "Andrew, Iron Man 3 isn't a Christmas movie"; however, according to Disney+ it is. Following the events of Marvel's The Avengers (2012), Tony Stark struggles to come to grips with the fact that aliens invaded New York City. After he seems to lose his path in a battle with the film's villain, the Mandarin, Stark attempts to put the pieces of his life back together, while trying to save the world.
Not only is this my favourite Marvel movie, but Iron Man is my favourite superhero because of his morals (Don't know what I mean? Watch Avengers: Endgame!). This movie is a great way to break-up the usual festive movies that you will be watching at this time of year. To end off on a quote from the film: "You can take away my house, all my tricks and toys. One thing you can't take away . . . I am Iron Man."
Decorating Disney Holiday Magic, 2017
Ending off the list is my favourite holiday special on Disney+. Hosted by Whoopi Goldberg, we see how the Disney parks have their Halloween decorations replaced with Christmas decorations overnight. The spectacle is not only amazing to watch, but it is incredible to see the amount of work that goes into it.
You thought decorating your house was hard? Wait until you see the thousands of people who come together to decorate parks across the globe as well as all of Disney's resorts. Although the streaming service has only been out for just over a year now, watching this special during the holidays has become a tradition for me as I love to see all the decorations and the magic that Disney brings with everything that they do.
Photo by Andrew "I Love Disney" Mrozowski / Arts & Culture Editor
Let's face it, there's not a lot of cheer in the world right now. Your favourite places are closed and you're likely cooped up in bed with very little to do. What if I told you there was a way to bring magic to your bedroom while skipping the "Salagadoola mechicka boola, Bibbidi-bobbidi-boo!"
Disney+ has been live for a few months now. In light of the world needing a little cheering up, I've decided to compile a list of my favourite things to watch on the streaming service. This is by no means a definitive list and I can't even fit my favourite movies on this list, but hopefully this will get the ball rolling for you. Hakuna Matata!
Just as a disclaimer: I am not being sponsored to write this article, but I sure wish I was. I am merely a life-long Disney fan, a Mouseketeer if you will! So, Disney, if you're reading this, I wouldn't say no to anything from your brand new Disney castle collection! Heigh-ho, heigh-ho, it's off to the list we go!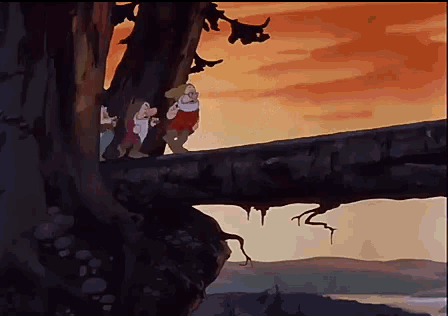 For the theme parks fanatic:
The Imagineering Story, 2019 – 2020
"To all who come to this happy place, welcome. Disneyland is your land. Here, age relives fond memories of the past and here youth may savour the challenge and promise of the future." These words were spoken by Walt Disney on July 17, 1955—the opening day of Disneyland in Anaheim, California. On that fateful summer day, the world was exposed to a new type of entertainment that blossomed into the theme park empire that it is today.
Behind the magic of all the Disney parks, resorts, properties and cruise ships, are a team of individuals who can be described as part engineer and part dreamer, or "imagineers" as Walt Disney aptly named them. Through six episodes, The Imagineering Story guides you through the creation of the Disney Parks, their evolution and future, while exploring themes of creativity, imagination and magic. The series features archival footage from as early as the 1950s when Walt Disney was running the company and more recent documentation of current Executive Chairman and previous CEO Bob Iger's visions for the future direction of the Walt Disney Company. Get a behind the scenes look at some of your favourite attractions and parks with interesting anecdotes from those who helped create and facilitate the magic. 
For the princess in all of us:
The Little Mermaid, 1989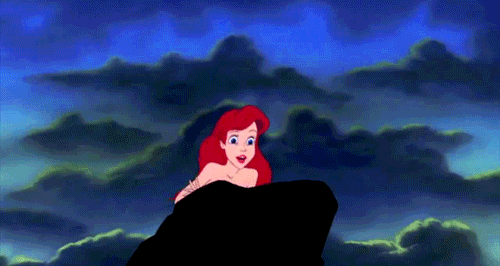 "When it's my turn, wouldn't I love, love to explore that shore up above? Out of the sea, wish I could be, part of that world."
Journey under the sea with this timeless Disney princess classic. It will have you dancing and singing as a hot crustacean band plays music. Ariel, daughter of King Triton, longs to live above the water with Prince Eric, a man she fell in love with when she saved him from a sinking ship. She makes a deal with the sea witch, Ursula, to trade her voice for feet, and has three days to get a true love kiss. We see true love blossom and bloom to the legendary Alan Menken's beautifully composed music. Menken is also credited for composing music for Beauty and the Beast and Tangled, both of which are available on Disney+. This is a tale that will inspire you to imagine your own fairy book ending.
If you love the animated film as much as I do, make sure to check out the live action musical version featuring Auli'I Cravalho as Ariel, Queen Latifah as Ursula, Shaggy as Sebastian and John Stamos as Chef Louis! 
For those looking for a new series:
The Mandalorian, 2019 – 2020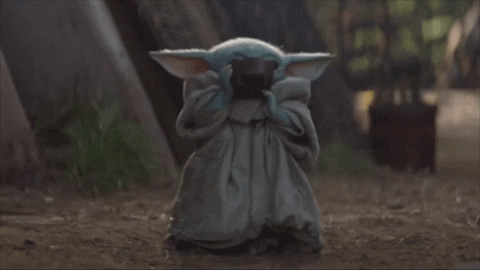 Of course, I have to talk about the adorable Baby Yoda whenever I make reference to Disney+. Set in between Star Wars: Return of the Jedi and Star Wars: The Force Awakens, we follow the bounty hunter known only as the Mandalorian. On one job, he is ordered to capture a person and through many twists and turns, the plot takes off and yes, Baby Yoda is in there somewhere, without giving too much away. Used to living in a life of solitude, the Mandalorian has to come to terms with being in charge of the child while trying to protect Baby Yoda from the galactic forces of evil. Not only is this story adding new lineage to the Star Wars catalogue, but it's finding its own niche separating it from the stereotypical lightsaber battles. You don't need to be invested in the lore to enjoy the show. The Mandalorian is great for both fans and newcomers alike. 
For those wanting something a little more realistic:
National Treasure, 2004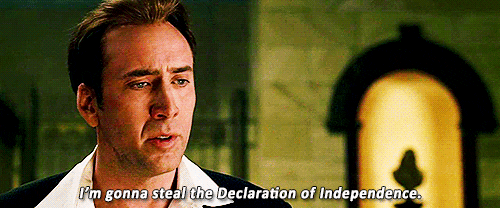 I'll simply describe the National Treasure as Disney's answer to Indiana Jones, this time set in the United States and starring Nicholas Cage. You can make your own judgments on how good this is. I personally love these movies (yes, they made more than one and they are both on Disney+). Cage plays Ben Gates, a historian who is told of a family legend dating back to the 1820s involvings the Freemasons, the Knights Templar and of course, some treasure. What's the catch you may ask? The treasure map is on the back of the Declaration of Independence, one of the most protected documents in the United States. Not only is this a fun movie to watch, but I'd say that this is one of Nick Cage's better performances.
For the superhero in your life:
The Incredibles, 2003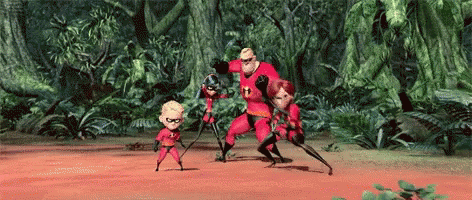 Aha, you thought I was going to recommend a Marvel movie, didn't you? Although I would definitely say to rewatch Captain America: Civil War, we're going to kick it old-school with this Pixar classic. Join Mr. Incredible and Elastigirl in The Incredibles as they leave their superhero life to raise a family. Struggling to adapt to a normal life, Mr. Incredible gets a call back to action, but finds himself wrapped up in a ruse that requires the help of the entire family to save the day. The Incredibles is an homage to the Golden Age of Comics and proves that there is a hero inside all of us—all it takes is believing the good in people.
Honourable Mentions:
Disney's Fairy Tale Weddings, 2017 – 2020
I'm sure you've heard of people getting married at Disney's theme parks, have you ever thought to watch the magic that ensues? Stephen "tWitch" Boss and his wife Allison, host Disney's Fairy Tale Weddings, a show that chronicles weddings that take place at Disney theme parks. The show gives viewers a behind the scenes look at what it's like to get married at the "happiest place on Earth". Each episode typically has two or three couples featured, each with their own unique twist on their special day. Some couples seek out extravagant proposals on Disney property, while others say "I do" in front of Cinderella's castle after arriving in a beautiful white carriage. Some couples even make their vows in front of the Tree of Life at Disney's Animal Kingdom park. You can always expect something magical to happen for these couples, from special celebrity guests, an exclusive firework show, to even a Stanley Cup appearance. If you're a sucker for wedding shows or extravagant romance, Disney's Fairy Tale Weddings might be the next show you have to binge. 
ONWARD, 2020
Although this film was released in theatres on March 6, Disney has already released the film on its namesake streaming platform to help bring some Disney cheer amidst the ongoing pandemic. In the film, Ian receives a birthday gift from his late father that allows him to bring back his dad for 24 hours using a magical wizard staff. Using the staff to perform a spell, only the bottom half of his dad comes back. Ian and his brother, Barley, embark on an adventure to bring back their father through a world once rife with magic before technology took it all away. This Disney/Pixar movie is fun and imaginative. It also references the importance of family, something that will hit close to home for many of us physical distancing. With an all-star cast of Tom Holland and Chris Pratt, this brand-new movie is a must watch!
For the Mouseketeer:
Steamboat Willie, 1928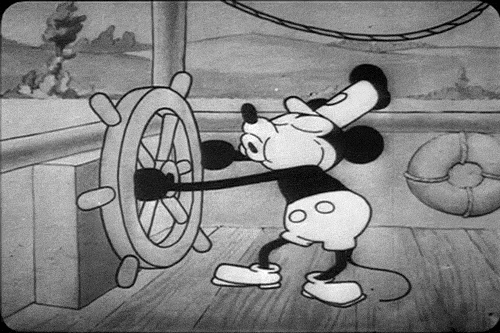 The cartoon that started it all. Not only was this the first appearance of the now classic character, Mickey Mouse, but it also created a new standard for animation. Before Steamboat Willie, animation had never been synced with sound, but that all changed when Walt Disney released the short film about his animated talking mouse. Join Mickey, Minnie and Pete in this timeless classic that will be sure to put a smile on your face and have you whistling the tune popularized by the Walt Disney Animation Studios.
Andrew's Top Pick:
Frozen 2, 2019
Look, I'm going to be honest with you. I was never onboard the Frozen hype train. That all changed in February 2019 when Disney released the teaser trailer for Frozen 2, promising a darker adventure, full of mystery—I was so intrigued, so I followed the movie until it's release date. What I watched in theatres, and subsequently on Blu-Ray and Disney+, was a movie about the power of family. There were also immense feelings of joy, suspense and maybe a few tears here and there. 
Frozen 2 picks up a few years after the events of the first film. The kingdom of Arendelle was prospering until one day when Elsa hears a voice calling to her seemingly out of nowhere. Suddenly, mysterious forces push everyone out of Arendelle. Elsa, Anna, Kristoff, Sven and Olaf journey to an enchanted forest to find who is calling out to Elsa, encountering problems when they arrive.
"Andrew, why is this movie your top pick?" I'm glad you asked. For starters, I believe that the songs in this sequel are better than the first movie with some notable favourites: "Into the Unknown", "Show Yourself", and "Some Things Never Change". Not only have the characters matured within the film, but we, the audience, have also matured since the first Frozen came out in 2013. It seems like the filmmakers were conscious of this and that's why they were to make the movie feel a little more mature, while still keeping with the themes of a typical Disney movie. When Frozen 2 begins, the tone feels similar to the first film, but when they venture off to the forest, the whole movie dips into the unknown territory and proves itself as one of the best Disney sequels.
"Where the north wind meets the sea, there's a river full of memory, sleep, my darling, safe and sound for in this river all is found."
[thesil_related_posts_sc]Related Posts[/thesil_related_posts_sc]
[feather_share show="twitter, google_plus, facebook, reddit, tumblr" hide="pinterest, linkedin, mail"]
By: Joe Jodoin
As the first movie from Disney Animation since 2014's Big Hero Six, Zootopia is a welcome return for the studio. The film possesses many of the same qualities as Disney's other classics: top-notch animation, lovable characters and a powerful message for children and adults alike.
The film takes place in a world of anthropomorphic animals, and follows a young bunny named Judy Hopps. Judy has wanted to be a police officer her whole life, but after finally getting accepted to the force, she faces discrimination and exclusion from all her coworkers for being nothing but a cute little bunny. To prove herself a worthy cop, she sets out to solve a conspiracy involving 14 missing mammals, and enlists the help of a con artist fox named Nick Wilde to help her solve the case.
The brilliance of this premise is that it contains so much potential. It can work as an amalgamation of crime drama tropes, a parody of modern lifestyles in an anthropomorphized world and explore serious discrimination problems that people face in the real world. For the most part, Zootopia achieves all of these things, but also bites off more than it can chew.
The voice cast is incredible, featuring the voices of Ginnifer Goodwin, Jason Bateman, Idris Elba, J. K. Simmons and Alan Tudyk among others. Goodwin is the voice of Judy Hopps, and has a vast majority of the dialogue in the movie. She does an incredible job, and it's almost impossible to imagine anyone else as the voice of Judy. The film definitely would not have been nearly as good if it wasn't for her incredible vocal performance, in scenes that are both heart-wrenching and heart-warming.
The story is definitely more about what it takes to overcome discrimination, and the importance of treating everyone as equals, than it is about a conspiracy. The film satirizes racism with incredibly strong parallels between how different species of animals treat each other and how people of different skin colors treat each other. It also tackles sexism and stereotypes, arguing that a woman can do anything that a man can do. In the film's third act, it goes even further, and shows how people can be discriminatory against a certain group without even realizing it because of how engrained stereotypes are in our collective consciousness. The way it confronts real world issues in such a blunt and powerful way is the main reason this film could go down in history as a Disney classic.
Furthermore, the attention to detail in Zootopia is astonishing. When Judy goes to a neighbourhood of mice, she looks like a giant relative to all the buildings. However, she looks tiny when at the police station, since everyone there is a larger animal like a rhino or elephant. The way the movie works with scale and environment is very clever. More highlights include scenes from the trailers, such as the sloth scene at the DMV, the godfather parody scene and a fox committing a con with popsicles and a fake baby.
Sadly, due to the film's incredible scope and amount of potential, it can feel disjointed and jumbled, moving from one place to another every few minutes. It is normally a good thing when a film has a fast pace, but Zootopia moves so fast that it stumbles often. Some scenes will be working very well, but then will move onto the next scene too quickly. This takes away from some of the emotional impact that the film aimed to have, and also made it less funny as it was almost exhausting keeping up with everything that was going on. To put this in perspective, the villain isn't even revealed until the last 15 minutes of the movie, and the whole climax, denouement and conclusion all occur incredibly fast. It would definitely have been more enjoyable if it was over two hours long, but that's not the worst complaint to have about a movie.
Overall, Zootopia is a fun and original addition to the Disney cannon, and is almost impossible not to like. It has a great message that all kids should hear, tons of pop-culture references and a balance of character and heart. However, the whole isn't quite as strong as the sum of its parts, making it feel like a minor disappointment.
[thesil_related_posts_sc]Related Posts[/thesil_related_posts_sc]
Sarah O'Connor
Staff Reporter
Like many of Disney's fairy-tale adaptations, Frozen is far from being an accurate retelling of one of Hans Christian Anderson's most well known fairytales, The Snow Queen. Even the two main characters from the original story, Gerda and Kai, are reduced to servants in the film who add nothing to the story (I didn't even know they existed until I read the credits).
But it's pointless to mourn the original fairytale when watching the Disney version, instead accept it for what it is: something almost entirely new with faint inspirations from a traditional tale.
The film opens when protagonists Princesses Anna (Kristen Bell) and Princess Elsa (Idina Menzel) are children. They wake up one summer night with the desire to build a snowman. While this may seem a strange and impossible request, it is soon revealed that Anna's older sister Elsa was born with the powers to create snow and ice. As the sisters play in the snow, things get out of hand when Elsa accidently hits Anna in the head with ice.
Afraid for her sister's life, Elsa wakes up her parents and the royal family goes into the forest to find a group of trolls who can heal Anna's head. But a side effect of the trolls' remedies is that Anna no longer remembers Elsa's power to create snow and ice. The elder troll warns the family that Elsa's power will only grow stronger. In an attempt to keep the younger sisters safe, they decide to lock the castle gates and keep Elsa away from Anna.
Years pass and the sister's relationship becomes strained, with Elsa trying to hide her growing powers and Anna persistently trying to reconnect with her sister. After the sudden death of their parents, Elsa becomes Queen and Anna hopes to rekindle her bond with her sister, though the sisters still don't see eye to eye.
Elsa's snow powers are accidently revealed when she creates a blizzard that freezes the kingdom. Elsa runs away to the mountains to keep the kingdom safe from her powers (unaware of the blizzard to come) and Anna goes searching for her. Anna leaves her fiancé Prince Hans (Santino Fontana) in charge and seeks help from Kristoff (Jonathon Groff) and his reindeer pal Sven. Anna sets off to find her sister and end the winter she has accidentally created.
The singing was fantastic and Idina Menzel gave a chilling performance of Elsa's "villain" song "Let It Go." The animation was phenomenal; one of the best moments of the film was watching Elsa build her ice castle, a truly beautiful scene, which makes the audience feel as if they are actually inside the expanding structure
But Frozen isn't without its faults. Though little, the flaws do make the story less convincing. For example, Anna somehow knows Kristoff's name without ever being introduced. And while the story does explain that Elsa was born with her powers, there are no reasons given for these abilities. Why was Elsa born with the snow powers while no one else in her family has any powers at all?
Nonetheless, Frozen is one of Disney's best animated films. The focus on familial love as opposed to romantic love is certainly a refreshing theme and I hope they continue to explore new ideas instead of the "true love's kiss" motif. We've certainly had enough of that. Frozen suggests that at least in this respect, Disney is no longer frozen in time.
3.5/5
No, don't worry, the Marauders aren't changing their name to the Eagles. Rather, the Ron Joyce football stadium has been home to a Disney Channel film crew for the past week.
Disney and the McMaster administration are being tight-lipped regarding production details, but a Global News article confirms that an alternative title for the film is How to Build a Better Boy and that the plot revolves around a group of teenagers and an android prototype that they've stolen, that turns out to be more dangerous than they were prepared for. The cast includes young Disney stars China Anne McClain, Noah Centineo, Kelli Berglund and Matt Shively.
Working under the name Paris, as crew signs around campus detail, the scene being shot revolves around a football game at a fictional McMaster High School. Allegedly, when Disney arrived on campus, they liked the McMaster name and eagle logo so much that they sought and received permission to use it, and re-wrote the script to incorporate the McMaster name.
The shoots, which have largely been happening over night, began last Friday, August 2, and are set to wrap on Friday, August 9. If the weather is uncooperative, however, this time frame is likely to be extended.
Filming on campus is typically allowed from May through August only, so as not to interrupt the regular undergraduate academic sessions. Previous films to have been shot at McMaster include American Pie sequels, Max Payne and Casino Jack.